RESIDENTIAL SEWER FLUSHING
HYDRO-JETTING CLEANS, NOT JUST UNCLOGS
Not sure if you have a blockage or a damaged pipe? We can help you know if you need a drain cleaning or repairs with a free over the phone diagnosis or you can check out our sewage backup symptoms page for more information. Once diagnosed our highly trained staff will locate the clog and thoroughly clean the drain with our hydro-jetter to remove the blockage.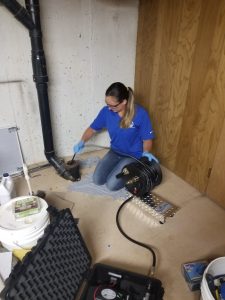 When things like grease, silt, fats, soap, detergents, dirt, mineral deposits and other components of sludge accumulate inside your sewer pipe they can stick to the pipe walls and become very hard, this often leads to blockages and back-ups into your house or building. Unfortunately, a rotating snake or augur does very little other than punch a hole in the clog to restore flow, it doesn't address the underlying and ongoing issues which is likely to result in a recurrence and a backup.
Hydro Jetting, also known as Hydro Scrubbing or Hydro Jet Cleaning, uses high-pressure water to scrub sewer pipes and drains for a longer-lasting resolution. Our high pressure Hydro-Jetting system is the most effective way of drain cleaning and clearing by removing the clogs and blockages as well as any residue that has built up within the sewer pipes. Our Hydro-Jetter is ideal for cleaning sewer lines, blocked drains, laundry lines, tubs, showers, sinks and floor drains.